Don't Get Snagged By A Fake Handbag
Hermes Leather Colors
Trending(ebay)


Hermes Handbags
Hermes Birkin
Hermes Crocodile Handbags
Hermes Items Under $1000
Hermes Bags by Price
Hermes Handbags From $1000-2500
Hermes Handbags From $2501-5000
Hermes Handbags From $5001-7500
Hermes Handbags From $7501-10,000
Hermes Handbags From $10001-15,000
Hermes Handbags From $15,001-20,000
Hermes Handbags From $20,001-25,000
Hermes Handbags From $25,001-50,000
Hermes Handbags From $50,001-100,000
Hermes Handbags From $100,001-500,000
In this guide we have illustrated some details about Hermes that will help you weed out the fakes. This is in no way a conclusive or complete guide to every detail about Hermes, but it has enough information to highly increase you chances of spotting the fake Hermes handbags. Combining some of these brand specific points with the universal tells we have listed should help keep you insulated from many of the fake Hermes handbags in the open market.
Note: Many of the images we show to highlight a specific tell, also have another tell within the same photo. When this occurs we will try to point out the secondary tell also. However, on occasion we may miss some of the secondary tells in the photos. So we encourage you the reader to inspect the images for other tells to help increase your spotting skills.
We recommmend that you read our tutorial
Spot Fake Handbags
first, to learn the universal tips essential to build a foundation for spotting fake handbag tells. Then reinforce that foundation with the brand specific tells we highlight here.
As we get more details we will add them. Also, if you the reader have anything else to add, please email it to us, we will be glad to add it to the site. If we use your tip we will refrence you and add your web/blog link if applicable.
---
---
Hermes Tutorial Sections:
Hermes Part one
Hermes Part two
Hermes leather | dustbags
Hermes label | stitching
Hermes colors
←
Hermes lock
---
Hermes Colors:


Colors: Reds, greens, oranges, browns, yellow etc. The most popular Birkin colors are gold (rich tan), black, and Blue Jean (sky blue).

Hermes colors (primary etc):


Rouge Hermes: Deep wine red, blue/pink undertone
Rouge Vif: bright cherry or lipstick red, raspberry pink undertone
Vermillion: Bright tomato red with orange undertone
Brique: Brick Red
Braise.

Hermes Blues:


Blue Jean: bright sky blue, (depending on leather texture[comes off as bright, on Clemence, pale on Epsom leather]).
Indigo: Dark Navy Blue
Ink: [blue-black]
Thalassa: Mediterranean Sea Blue [same family as Blue Jean, but deeper]
Blue Roi: Bright royal blue [exotic leathers give it a denim-blue look]
Turquoise: Bright green-blue
Blue sapphir.

Hermes Greens:


Vert Anis: Bright Apple green
Chartruese: Green with yellow undertone.
Forest green
Jade.
Olive.

Hermes Oranges:


Classic orange: Classic Hermes color [bright tangerine]
Potiron: Less bright orange (brown undertones)[dark on Chevre leather, bright on Togo, Clemence leathers]

Hermes Pinks and Purples:


Fuchsia: Rich, bright pink.
Cyclamen: Mixture of lavender and pink
Violet: Bright purple
Raisin: Dark purple bright [lighter than violet]
Hermes color pics: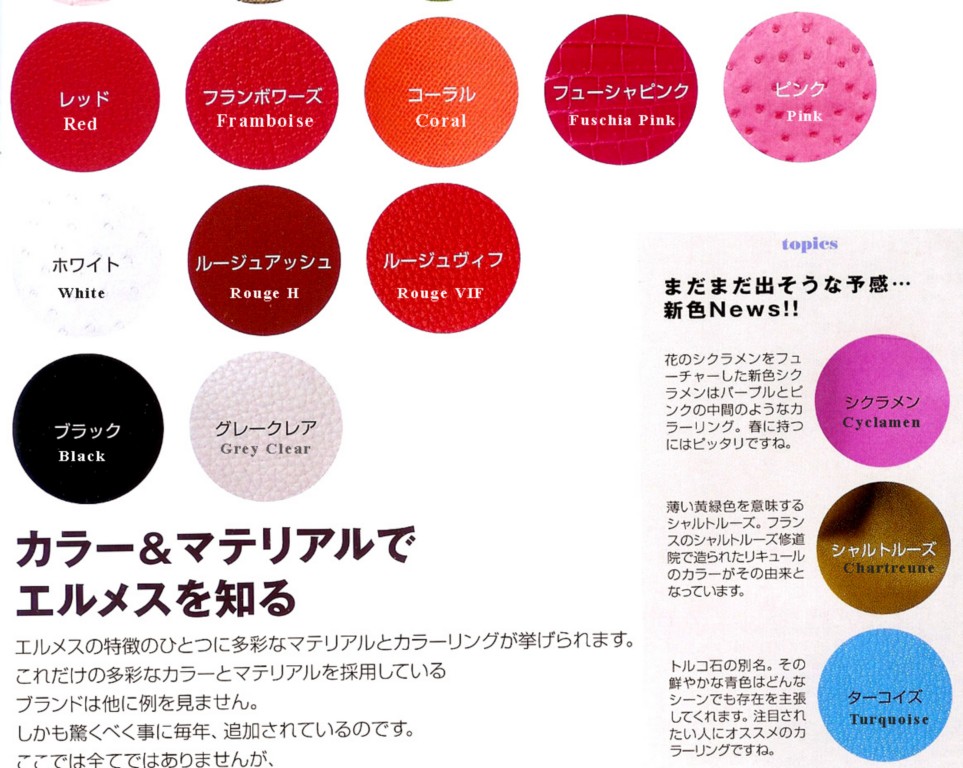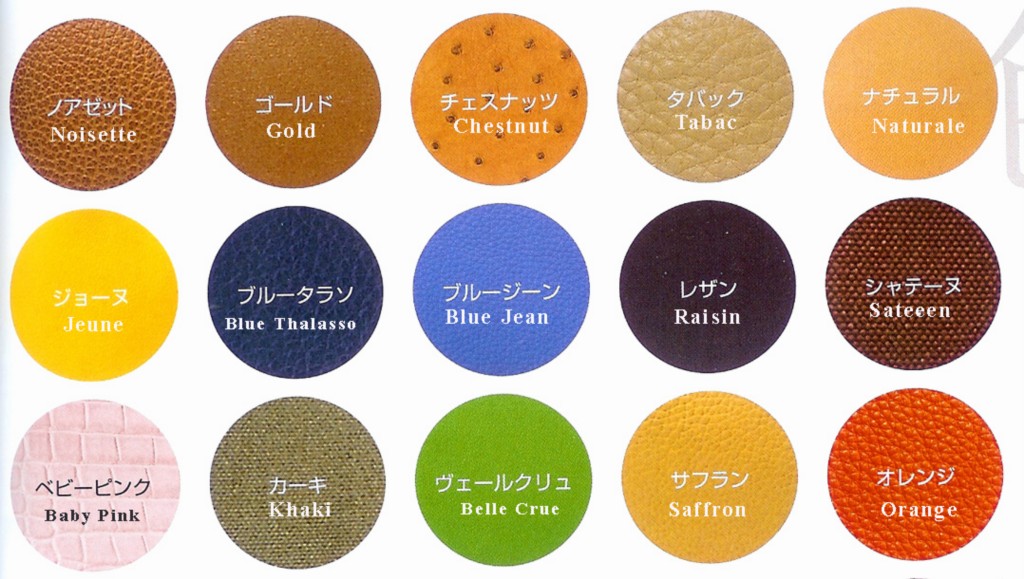 Hermes leathers: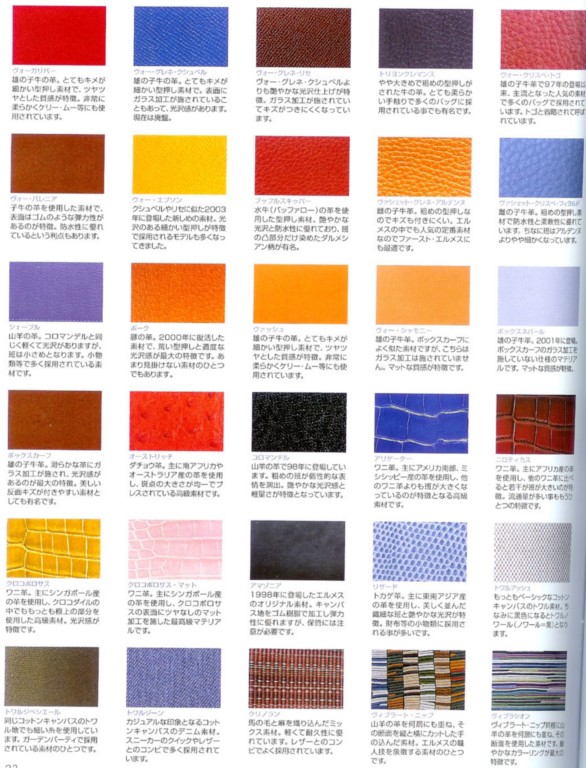 [ebay]
---
Hermes Handbags
Hermes Birkin
Hermes Crocodile Handbags
Hermes Items Under $1000
Hermes Bags by Price
Hermes Handbags From $1000-2500
Hermes Handbags From $2501-5000
Hermes Handbags From $5001-7500
Hermes Handbags From $7501-10,000
Hermes Handbags From $10001-15,000
Hermes Handbags From $15,001-20,000
Hermes Handbags From $20,001-25,000
Hermes Handbags From $25,001-50,000
Hermes Handbags From $50,001-100,000
Hermes Handbags From $100,001-500,000
---
Hermes Tutorial Sections:
Hermes Part one
Hermes Part two
Hermes leather | dustbags
Hermes label | stitching
Hermes colors
←
Hermes lock
---